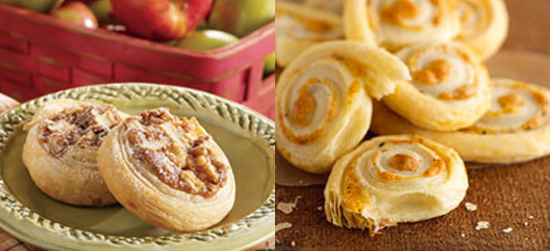 During the holidays,
stock your fridge
with
puff pastries
for quick appetizers that
can be thrown together
in a pinch. The flaky, easy-to-thaw, simple-to-slice dough is irresistible, whether it's stuffed with something sweet like
ginger and holiday spice
or savory like
sliced prosciutto
. Wow guests with minimal work by serving two types of puff pastry spirals — one sweet, filled with diced green apples and dusted with pecans and powdered sugar; the other savory and infused with the Roman flavors of sharp parmesan cheese and black pepper. Everyone will be raving at both the beginning and the end of the meal. Want the recipes? Then
click to read more.