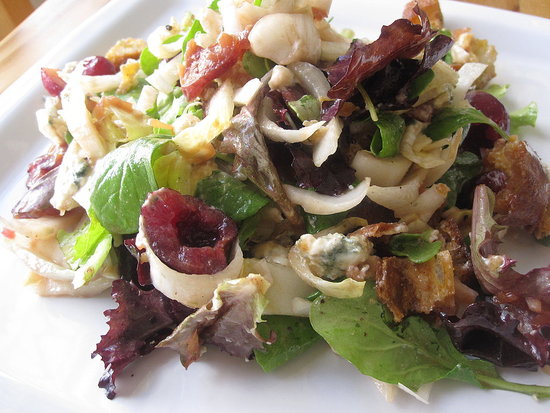 Sometimes I'll make a hurried salad by haphazardly throwing vegetables and oil into a bowl. Other times, I'll make a leisurely salad with
homemade croutons
and an elaborate vinaigrette.
This amazing dinner salad is the latter, because the vinaigrette has to be made in advance. Don't be intimidated though, once you've reduced the beer, the rest is easy. The ingredients — tangy blue cheese, juicy cherries, crunchy croutons, and bitter greens — come together perfectly, creating a salad that is sophisticated and filling. It's the kind of salad you'll want to serve to girlfriends at a bridal shower. Be sure to pair with a luxurious white wine like
Forefront's classic Sav Blanc
. I enjoyed this dish so much that I've already made it multiple times. Give it a try and
get the recipe now.