For a new spin on hummus, take note of Food Orleans's blog and swap out butter beans for standard chickpeas.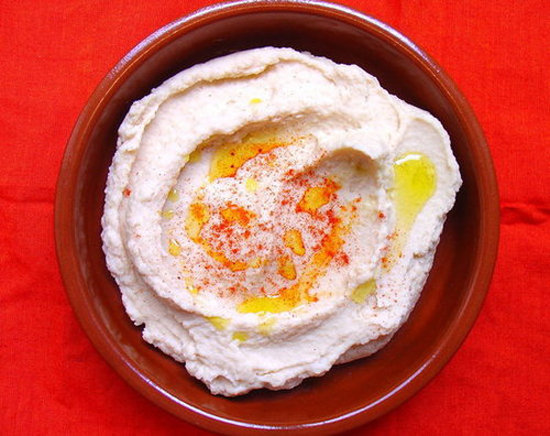 I started making hummus from scratch last year, when I discovered the organic dried chickpeas in bulk at the neighborhood Rouse's. I love to make it, but let's be honest: chickpeas take forever to cook, especially when you want them really soft, for hummus. But you can make a serviceable hummus out of just about any dried bean or pea: black-eyed peas, lima beans, black beans . . . and butter beans! While all of these might be tasty, the prettiest ones are going to be made from white or very light-colored beans. I've made black bean hummus before, and it turns out kind of blue-gray. Not untasty but not winning any beauty contests.
Butter beans, a.k.a. large limas, are perfect for making a from-scratch hummus, because they cook very quickly — just about 45 minutes in gently boiling water. You can also use canned, of course, just as you would use canned chickpeas for hummus. I like the fact that butter beans are a Southern cooking staple, too. Try some! 
Use your own favorite hummus recipe, or if you don't have one, here are some amounts to get you started.