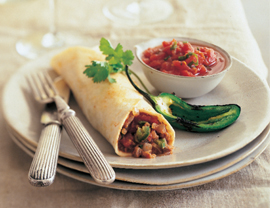 Traditionally, chimichangas are deep-fried and filled with meat. However, this innovative recipe remakes the classic Mexican dish into something healthy and vegetarian-friendly.
Fat-free soy meat is combined with cumin, chili powder, onions, garlic, diced tomatoes, and roasted jalapeño peppers to make a filling that's well-seasoned and provocative.


The chimichangas require half an hour of bake time, resulting in a crisp, crunchy exterior and bubbly, oozing interior. Want to experiment with this cheese-free south of the border favorite? Get the recipe after the break.