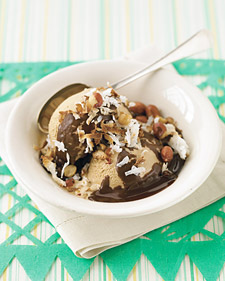 Every year for my birthday I
bake myself a cake
. However, I'm spending the actual day on vacation in Spain, so that means the elaborate cake baking will happen when I return.
At the celebratory dinner in Cadiz, I'll offer my new Spanish friends an easy-to-make but delicious-to-eat sundae. Not just any sundae, one that keeps up with my Tex-Mex-inspired menu, a Mexican sundae with cinnamon chocolate sauce and dulce de leche ice cream.
Salty, crunchy peanuts and flaky sweetened coconut give texture to the frozen dessert. To look at the recipe I'll be using, read more.