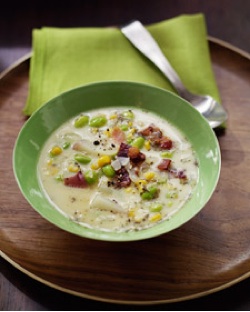 I'm making tonight a laid-back Monday night by chilling in front of the tube with a bowl of homemade soup. I'll be giving an old Winter standby, corn chowder, a facelift with two ingredients that have been very big this decade:
leftover
bacon, for smokiness, and frozen, shelled edamame, to up the protein ante.
To turn this hearty stew into a weeknight feast, I'm going to serve it with some crusty garlic bread and a mixed green salad. The result is a satisfying meal that takes minutes to make. Interested? Then keep reading for the recipe.