You know what they say: if it's too good to be true, then it probably is. For a while, the weather was unseasonably warm, and I started to think there might not be a Winter in the Bay Area. But then this week hit, and boy, was I wrong. Not only is it cold, but the sky's poured rain incessantly, and the bleak forecast continues all week.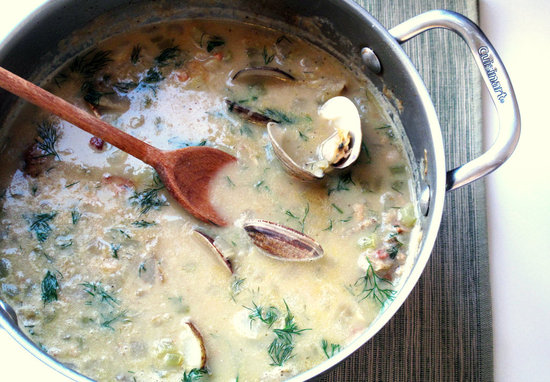 So I did what I'm wont to do in cold weather: I made clam chowder.
I'm partial to the New England kind, the traditional version that calls for
copious amounts of salt pork
and
more heavy cream
than you want to know about. It tops tomato-based Manhattan and broth-based Rhode Island versions as my favorite, but recently I spotted another creative take on the soup that I just had to try.
Keep reading for the most creative clam chowder recipe you've seen yet.