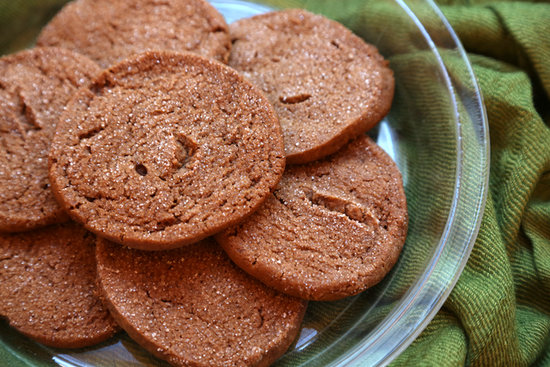 A recipe to have on hand all Winter season is for chewy gingerbread cookies. Unlike the crispy counterparts that are typically rolled, cut out in festive shapes, and decorated with royal icing, this ultramoist, molasses-rich gingerbread cookie is slice-and-bake. There's no need to be a Betty Crocker decorator, because this convenient, quick method just requires you to engage your basic log-forming skills (channel your inner kindergartener in art class).
OK, here's the hard part. The cookie dough log has to be refrigerated to moisten up and firm up before being cut. Distract yourself by eating peppermint treats for the next two hours.
The molasses makes the dough salty, so to offset that (and to add a nice crunchiness), dip one side of the cookies in a bowl of granulated sugar.
The cookies will spread as they bake, so be sure to keep them spaced out. Once the cookies have emerged from the oven, serve them with milk, eggnog, or even turn them into an ice cream sandwich with vanilla or eggnog ice cream.