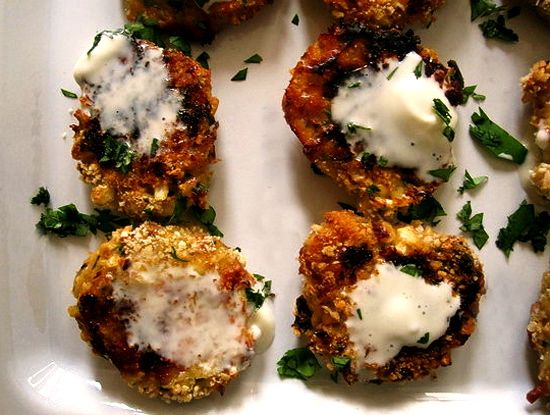 Recently I was in need of a seasonal appetizer that would satiate both vegetarians and carnivores alike. After watching an episode of
Giada at Home
, I decided to try her grilled corn and cheese cakes. Instead of using frozen corn, I substituted fresh corn cut off the cob.
The recipe has mixed reviews, and I was a little worried that the resulting bite wouldn't be embraced by my all-female guests. However, these cakes blew my friends and I away! They were amazing.
The corn flavor is enhanced by spicy pepper Jack cheese, and the panko provides a perfectly crisp crust. Although they are rich, they're not heavy; they are satisfying and filling but still light. These cakes pair perfectly with a glass of sparkling wine! I highly recommend you make this hors d'oeuvre. Get the recipe here.