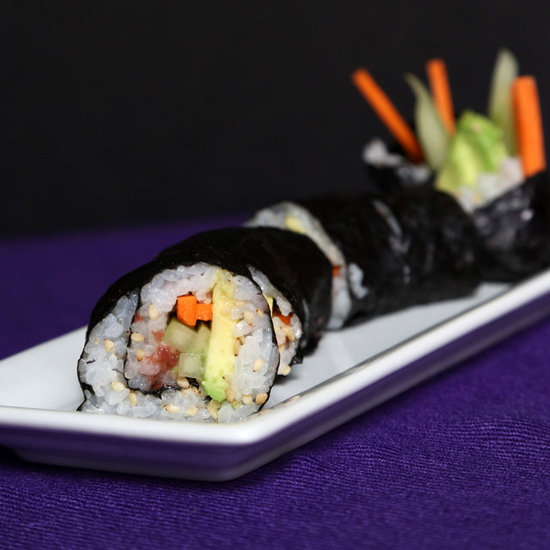 Who says raw vegetables can't pack plenty of flavor? This vegetable sushi roll, made with creamy avocado and crunchy cucumber and carrots, has two secret ingredients: gomasio and umeboshi paste. Gomasio literally means "sesame salt" in Japanese. This condiment is sprinkled onto Asian cuisine like salt and is made from crushed, toasted sesame seeds and salt. Unlike salt, which only adds one dimension of flavor to a dish, gomasio gives food a nutty, roasted quality. Just be sure to keep your bottle in the fridge, because sesame seeds go rancid quickly, and nothing is worse than ruining a dish with rancid seasoning!
Also contributing to the saltiness of the sushi is umeboshi paste, or puréed, pickled Japanese plums. What does this bright purple paste taste like, you might be wondering? Umeboshi paste is at once extremely salty and full of savory umami flavor (the Western equivalent, in terms of texture and flavor, would be concentrated bouillon paste). Even just 1/4 of a teaspoon of umeboshi paste smeared on a sushi roll will give the sushi sufficient seasoning, so much so that you probably won't be tempted to dip the roll in a dish of soy sauce.
To see how this simple vegetable sushi roll is constructed, keep reading for the recipe.