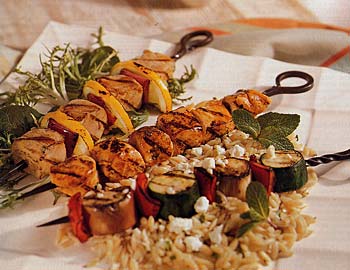 While it's true that tomatoes and corn take up most of the seasonal spotlight this time of year, it would be simply criminal to overlook some of Summer's other standout vegetables.
Take zucchini. Right now, this vegetable isn't just at its peak; it's also abundant and therefore affordable. Zucchini has a hint of an herbaceous flavor and a tender texture.
Make the most of its characteristics by dressing it lightly and charring it on a stick along with grilled eggplant and red bell pepper. For a straightforward Mediterranean supper, serve the kebabs atop orzo pasta, passing feta cheese around during the meal to sprinkle on top. For the recipe, read on.