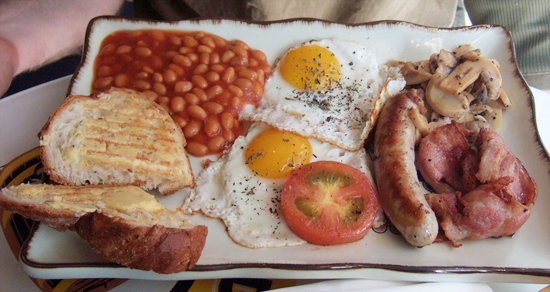 British food customs can seem, well, a bit
wonky
to the uninitiated. Just as
"afternoon tea"
refers to a ritualistic midday meal rather than the consumption of the actual beverage, an English full breakfast, as it's known, has its own set of guidelines. More hearty than dainty, full breakfast is comfort food at its finest and is generally reserved for weekends — perhaps after a night of indulgence — much like the American custom of brunch.
While the exact offerings may vary from establishment to establishment, we've broken the usual suspects down:
Eggs: Generally fried or poached; either way, we'd argue that a runny yolk is imperative.
Back bacon: Thick and fried til crisp-tender, it's often referred to simply as "bacon" but is in fact a different cut from what is customary stateside. Back bacon is leaner (similar to Canadian bacon), as it's cut from the back of a pig, rather than the fattier pork belly.
Keep reading for sausage, toast, and all that jazz.