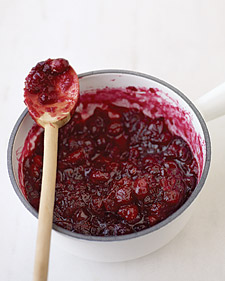 Cooking an entire Thanksgiving meal is quite a hefty task. Not only does it require culinary expertise, but it also involves lots of planning. To help shoulder part of the burden and cut the budget, many people like to throw or attend a potluck Thanksgiving.
Usually the person hosting is in charge of the turkey. They should also assign side dishes — that way you won't end up with seven sweet potato casseroles and no cranberry sauce — and coordinate a cooking schedule.
If you're a guest at a potluck on Thanksgiving, be sure to ask the hostess what you should bring.
Select a side dish that can be made almost entirely in advance and put it together the morning of the big day. Communicate with the hostess and explain that your dish needs a certain amount of time in the oven or microwave. To see my recipe suggestions — like herb-roasted turkey, fennel and potato puree, sausage and apple stuffing, and cranberry ginger relish — for hosting and attending a potluck Thanksgiving, read more