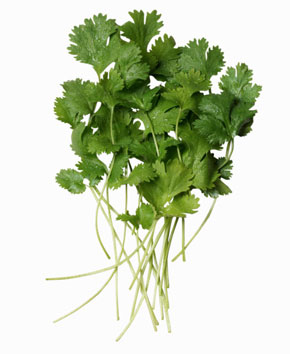 Chinese parsley, the crop of coriander, or plain old cilantro — no matter what you call it, the small, green leafed plant is not only delicious, but also chock-full of
nutritional value
. While some see it as a simple garnish, I look for nearly every chance to incorporate the tasty herb into my meals. After reading up on these benefits, you may, too.
It appears that once a month, the ladies should eat a healthy dose of cilantro as it may ease monthly hormonal mood swings and may reduce menstrual cramping.
It has bacteria-killing agents! While I wouldn't trust it to rid my kitchen of salmonella, I wouldn't hesitate to use it on my cutting board.
Cilantro is said to have anti-inflammatory powers that can help arthritis sufferers.