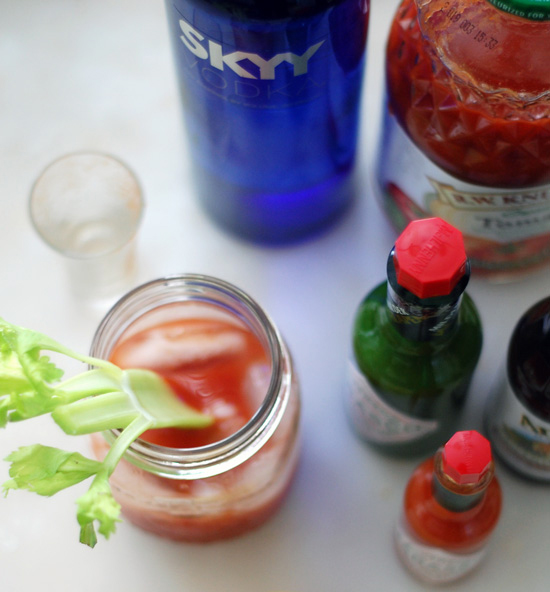 Photo: Camilla Salem
More a blueprint for experimentation than set-in-stone recipe, the classic bloody Mary plays nicely with a vast variety of flavors. Generally speaking, there are three ways to enliven the tried-and-true hangover-buster: swap out a standard ingredient for an exotic (or at least novel) one, add bloody good garnishes, or rim the glass with something unexpected. Just remember, as with any kitchen experiment, make sure to season to taste and use your best judgement when pairing flavors.
Novel Mix-Ins
Change up the liquor: try vodka infused with jalapeño peppers or cucumbers or leave out the vodka entirely and turn to gin, sake, tequila (for a bloody Maria), or even beer.
Heat things up: experiment with different hot sauces in lieu of Tabasco, like a homemade batch, Cholula, Frank's RedHot, or sriracha. Alternatively, try wasabi or red pepper flakes instead of horseradish or puree in a bit of kimchi.
Make it vegan: while we rarely leave out a dash or two worcestershire sauce (it's just that good!), its not exactly vegetarian-friendly. Instead, try Bragg Liquid Aminos or a splash of soy sauce.
Change the acid: likewise, don't even think of skipping something acidic to balance out the flavors. If you're bored by the standard spritz of lemon, try lime or vinegars like balsamic, sherry, or red wine.
Add spice: savory spices like Chinese five-spice, garam masala, coriander, celery seed, jerk seasoning, and Old Bay are all solid options.