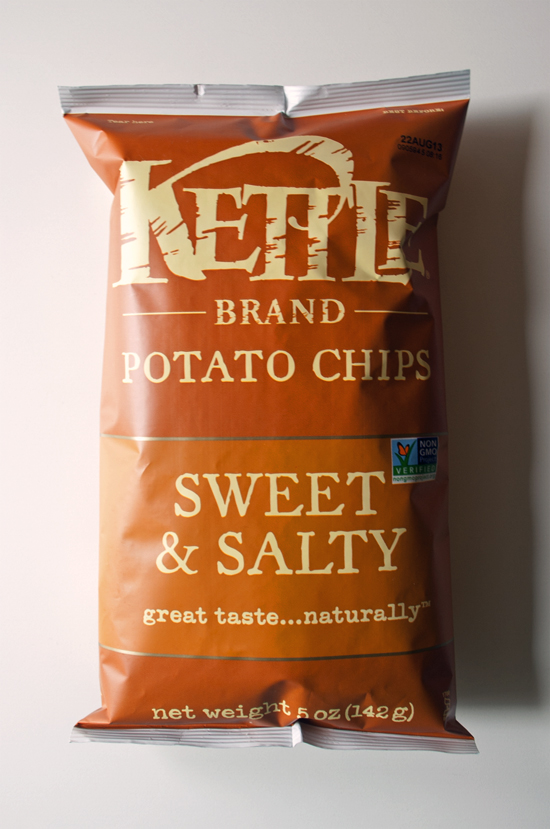 Mention Kettle Brand potato chips around our office — or better yet, deliver a box to our desks — and our ears perk up and mouths begin to water just like Pavlov's famous dogs. True to form, an ineffable itch to tear open a bag overcame us on first sight of the Kettle Brand-emblazoned package, hoping that we had on our hands another Zesty Ranch, Spicy Thai, or Cheddar Beer. While their latest flavors — Maple Bacon and Sweet & Salty — won't be on store shelves till early Summer, keep reading for a first look at their latest flavors, and to find out if they're worth adding to your cart.
From left to right: Kettle Brand Sweet & Salty and Kettle Brand Maple Bacon
Kettle Brand Sweet & Salty Potato Chips
If simplicity is your style, you're in luck: Kettle Brand's Sweet & Salty offering keeps to its titular promise with crisp chips that taste just as advertised — sweet and salty, and not much else. Akin to kettle corn, these snappy snacks pleased those looking for a simple yet satisfying bite, though the majority of our trusty crew of tasters felt they were a little too one-note, even calling them bland, too sweet, and just plain "not tasty enough."
Keep reading to find out how maple bacon translates to chip form, and for our overall thoughts.