We are pumped to share one of our favorite stories from Shape here on FitSugar.
Since Hurricane Sandy, the team behind Shape.com has had a variety of temporary offices, and our latest outpost in Brooklyn is bare bones. We were thrilled with the arrival of bottled water and a minifridge on Monday, but after four weeks at our new location, we only just received a microwave today.
I've just about had all the almond butter and banana sandwiches I can handle, so after the arrival of our new fridge, I headed straight to Pinterest to find a few no-heat healthy lunches to get out of my rut. While the microwave will expand my options even further, I still plan to make the delicious recipes below and enjoy them chilled.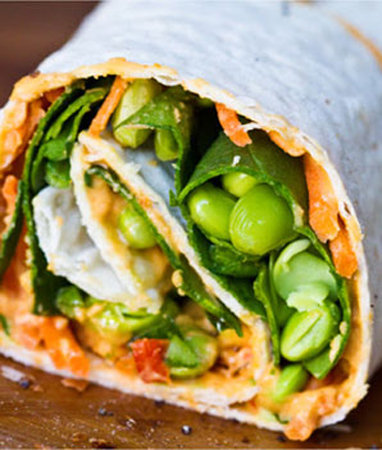 This quick sandwich is packed with spinach, edamame, avocado, and carrots. What more could a girl ask for? Prevent lunchtime boredom without any extra effort by using different-flavored hummus throughout the week.
See more no-heat recipes after the break!