For those who want to experience the sights of Mars (you know, without taking in the toxic fumes), the interactive 360-degree, four-billion-pixel panorama by photographer Andrew Bodrov is the most sweeping view of the Red Planet you're going to get.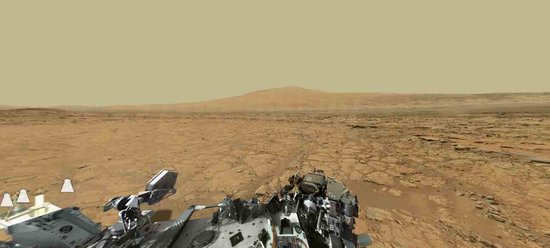 Andrew stitched together over 400 photos taken by the Curiosity Rover's narrow angle camera (NAC), which has a 100mm focal length, and medium angle camera (MAC), which has a 34mm focal length. The end result is a totally immersive 90,000-by-45,000-pixel image that takes you right to the surface of Mars. Andrew creates all sorts of interactive photography for 360pano.eu, including some older photo composites from the early days of NASA's Curiosity rover.
Super-high-resolution gigapixel panoramas are nothing new — we were geeking out on photographer Toni Sandys's GigaPan image of President Obama's inaugural address a couple months ago — but this may be the most impressive panoramic image of Mars that we've seen so far.
See all four billion pixels (make sure you get the full-screen experience!) after the break.