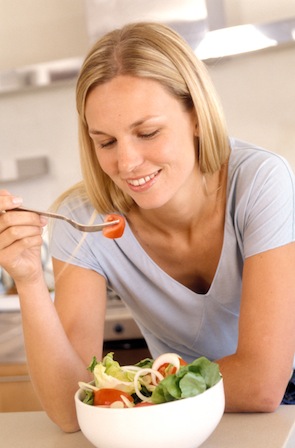 Eat your fruits and veggies is a catchphrase we always hear. But if you had to choose between fruits
or
vegetables, what would you pick? When I think of fruit I think of it as more of a treat rather than an important food group, whereas with vegetables, I eat them because I have to, not because I particularly want to. Fortunately, I've managed to marry the two into my diet quite successfully.
Thankfully, I'm not deviating that far from the norm with my preference of fruit over veggies; as Newsweek reports, the desire for sweetness is actually hardwired into humans. Steven Munger, an associate professor of Anatomy and Neurobiology at the University of Maryland who is quoted in the article says that if we look back to the days of primal survival when humans were required to make quick decisions about what to eat out in the wild, something sweet usually proved to be a safe food option — not to mention lots of calories to be later burned off as energy. I guess you could say our sweet tooth cravings date way back before the invention of chocolate sundaes, M&M's, and cotton candy.
As important as fruits are in our diet, it's important to make sure we're eating lots of veggies because their health benefits are endless. Aside from providing us with vital nutrients and minerals for our health, they also reduce the risk of some chronic diseases.
Here are a few fun ways to trick your taste buds into liking veggies.