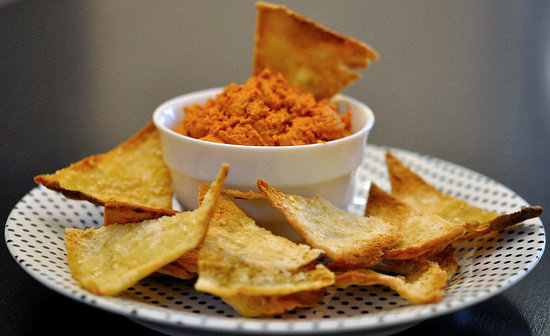 Traveling the globe can be pricey, but trying out new worldly recipes in your own kitchen is an easy and inexpensive way to taste more of the planet. In our
world traveler series
, we are doing just that: exploring the earth one dish at a time.
Muhammara is a Syrian roasted pepper and walnut dip often served with crackers, on kebabs, or over meat and fish. The longest part of preparing the dip is roasting the bell peppers. Of course you could just buy a jar, but they are so much better fresh. If you have never roasted your own, check out this how-to slideshow. Once you have the roasted bell peppers, the dip is incredibly simple to make with the help of a food processor.
The sweetness from the pomegranate molasses and roasted bell peppers is balanced by the tart lemon juice and spicy kick of jalapeño. I served it with pita chips, but it would be great as a veggie dip or a sandwich condiment. Skip the hummus and the onion dip and give muhammara a try. Curious about the recipe? Keep reading.