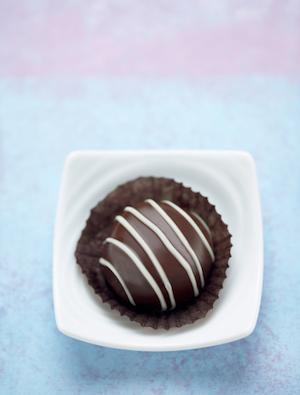 Well how's this for starting your weekend on a high note — after reviewing 21 different chocolate studies, science is still touting the many
health benefits of eating the dark confection
.
The studies, which involved 2,575 participants who ate sugar-free dark chocolate rich in cocoa containing polyphenolic flavonoids, found the following health benefits: improved blood pressure levels, a decrease in bad cholesterol for those younger than 50, and a rise in good cholesterol levels. But before you go pig out on chocolate, keep in mind that too much of a good thing can be harmful to your health due to calories; chocolate may help your blood pressure and cholesterol levels, but maintaining a healthy weight is even more beneficial. Plus, scientists are still unclear of why chocolate positively affects blood pressure and cholesterol.
"The research looks at the benefits of cocoa and used very specifically prepared cocoa . . . Cocoa is an ingredient of chocolate. How the cocoa is processed makes a difference in whether or not the chocolate drink or bar is contained [and] will have health benefits," says Lona Sandon, assistant professor of clinical nutrition at the University of Texas Southwestern Medical Center at Dallas.
So on that note, I'm curious why you eat chocolate. Please participate in the poll below!