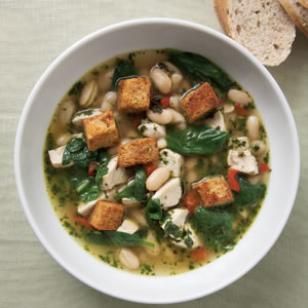 Crazed start to the week? Then reassure your stomach and soothe the mind by using yesterday's chicken breasts to make a poultry riff on Provençal soupe au pistou.
This dish consists of assorted vegetables, with pistou, a sauce made of garlic, basil, olive oil, and Parmesan.
Serve it at room temperature, or piping hot, with fresh croutons for an element of crunch. If you're coveting the recipe, read more.