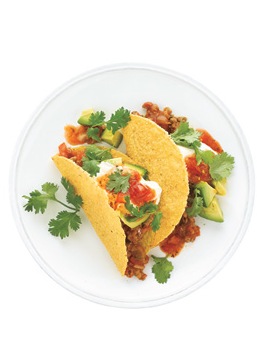 One of my favorite parties of the year — the
Super Bowl
— is just around the corner. While I'm not a huge fan of football, I do love
game day eats
, so when my friends Alex and Ryan asked me to help them host the ultimate bash, I couldn't say no. Alex and Ryan are good-looking, young, successful bachelors with only a little bit of experience in the kitchen. That's why I'm suggesting a menu of easy, fast, and classic dishes.
To start, there's nothing quite as crowd-pleasing as artichoke-spinach dip. This cheesy variation is simple, all you have to do is mix the ingredients together and bake. Also on the appetizer spread? Pizza pockets! Store-bought pizza dough makes these hand-held snacks a cinch. Feel free to change the filling to suit your family's needs.
Finally, during halftime, we'll feast on a Mexican selection of store-bought guacamole, salsa, queso dip, and homemade quick beef tacos. These recipes are ideal for the beer-guzzling bachelor in your life, share them now.