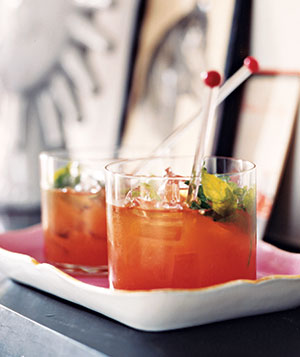 Guests attending a
holiday cocktail party
will expect cocktails, but to ensure that the hostess isn't tending bar all night, serve a pitcher drink or punch or set up a small bar and invite friends to pour their own beverage. Here's how you do it: Select an easy drink recipe, like this one for a bourbon and blood orange blast that's featured here. Write out the directions for the cocktail and set out an ice bucket, cocktail shaker, jigger, and the ingredients. Alternatively, place the blood orange juice alongside vodka, gin,
and
bourbon. Fill a small pitcher with simple syrup and one can make a blood orange martini or the blast. Remember to place plenty of napkins and fresh towels on the bar.
To get the proportions of the suggested libation, keep reading.