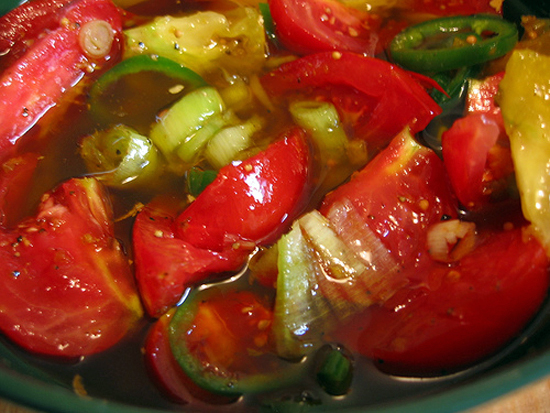 If you can't bear the thought of this year's beloved
heirloom
and
Early Girl
tomato crop coming to an end, there are two things you can do to prolong your enjoyment of Summer's sweet and seedy fruits. If you're really itching to enjoy them in a few months,
learn how to can them
. Or, if you find the idea of pressurizing any sort of jar in boiling water intimidates you, there's always quick-and-dirty pickling.
If you belong to the latter camp, I highly recommend this farm-stand tomato recipe; it only requires a few hours before it's totally ready to consume. These pickled tomatoes have a smoky, slightly spicy flavor that comes from cumin, fresh ginger, and jalapeños. The high proportion of olive oil in the base imparts a mild flavor on the tomatoes (although you can play with the proportions for a more pickled taste), and the tomatoes last up to three days when refrigerated. Keep reading to see the recipe with step-by-step photos.