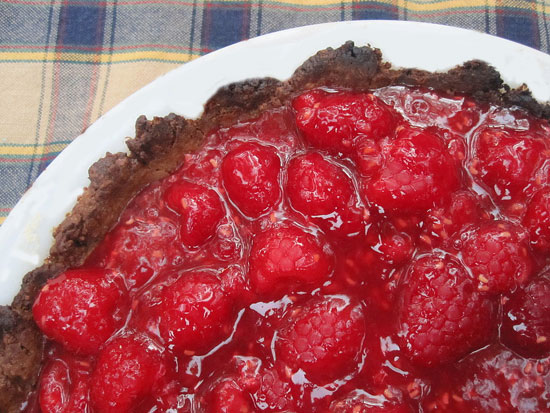 Everyone has culinary issues and one that I'm constantly working on is my fear of dough. Pizza dough, bread dough, pasta dough, pie dough — I'm totally intimidated by it all. However, last Summer, in an attempt to face my (irrational) fear, I started making pies. Peach pie, blueberry pie, cherry pie, raspberry pie. With each pie I made, it became a little easier.
It's been months since I made a pie, but with the bounty of ripe fruit at the market calling to me, I was inspired to try this chocolate raspberry pie. From the ultimate pie queens at Martha Stewart Living, this pie is divine. The dough is chocolate pate sucree and the filling is a layer of chocolate ganache covered with a luscious raspberry topping.
Although I ran into a little difficulty with the dough, it was rewarding to slice into the finished pie. Want to show off your pie-making skills with this decadent dessert? Check out the recipe.