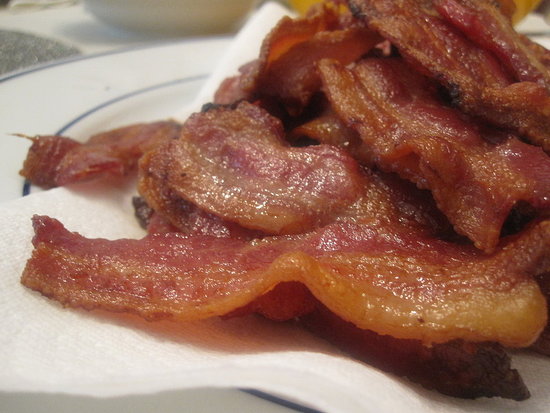 There's something so wonderful about eating a perfect piece of bacon. My favorite kind is thick-cut with both a
chewy and crispy texture
, fatty and juicy mouthfeel, and porky, yet slightly sweet flavor. Put a plateful of this ridiculously tasty bacon in front of me and I won't be able to control myself. I'm like a kid licking a brownie bowl, I can't stop until the entire thing is gone.
Recently my dad made me some bacon that put this spell on me. It was Ina Garten's roasted bacon. Baking bacon is an easy and great way to cook it, especially when you don't need to use the grease for another part of the recipe. Since we were just having a frittata with bacon on the side, he used her technique.
The secret ingredient that makes this bacon so memorably addictive? Maple syrup. Once you've mastered this method, feel free to get creative. Use brown sugar or barbecue sauce or honey or chocolate — whatever floats your fancy. Learn how it's done now.