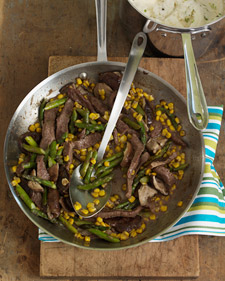 When it comes to beef, it pays to think beyond potatoes. Instead of serving steak with the starchy tuber, consider a lighter alternative of fresh asparagus, shiitake mushrooms, and sweet corn.
This recipe calls for an affordable cut of meat that easily feeds a crowd — just be sure to chop the beef into the same-sized strips for even cooking.
This simple, but savory meal comes together in no time at all. For a complete dinner, serve with roasted cherry tomatoes, grilled bread, and a glass of red wine. Interested? Get the recipe.