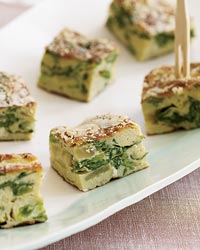 I'm of Irish descent, and St. Patrick's Day is one of my favorite holidays. Every March I do something different: last year I hosted a cocktail party with
green appetizers
; in 2008, I helped cook
Irish-inspired snacks
; and in 2007 I threw a
special dinner
with blarney stone cottage pie. This weekend, I'm putting together an early lunch with friends and family.
We'll be going to the parade in downtown San Francisco, but before, we'll meet at Danny Coyle's, an Irish pub on Haight Street that lets patrons bring in their own food. I'm serving a simple, festive, and portable menu of mustard green and sweet onion frittata bites and smoked salmon sandwiches.
The sandwiches are served on homemade biscuits, and although the recipe calls for parmesan cheese, I'll substitute a good Irish cheddar. Interested in the recipes? Read more.