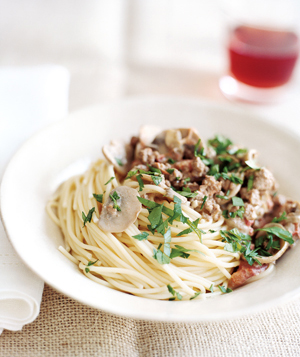 There's a reason why spaghetti with meat sauce is America's go-to weeknight meal: it tastes like comfort, works well with a budget, and comes together quickly.
Avoid spaghetti palate fatigue with an update on the old favorite: button mushrooms, heavy cream, and parsley add a Stroganoff-like twist to a classic sauce made from leftover ground beef.
For a healthier alternative, sub whole wheat, high-fiber pasta for standard spaghetti, and swap out evaporated milk for the heavy cream. Get to know a new dinnertime favorite when you keep reading.