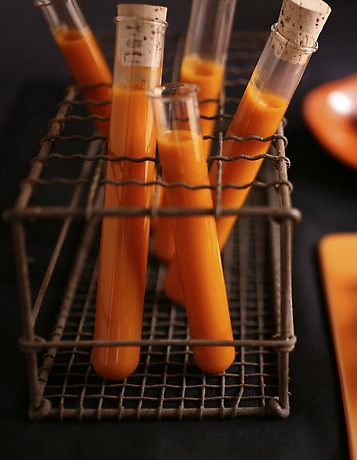 Halloween
happens to fall on a Saturday this year which makes it an ideal night for hosting a party. But don't just throw any party, select a theme, like vampires, and use this to inspire a ghoulish bash.
Start by sending our free vampire invitations specially designed for the online invitation service, Pingg. All you have to do is fill them out and send — how easy is that?
Once you've notified your friends, you can focus on more important things, like the menu. Select an assortment of finger-licking good foods that evoke the vampire culture.
Tomato soup filled test tubes resemble the addictive vampire blood popular in the HBO series, True Blood. Stefan Salvatore, the kind bloodsucker on the CW's Vampire Diaries who loves garlic, would devour a platter of garlic and cheese crostini. Guests will feel like Buffy the Vampire Slayer when they stake steak bites with skewers and dunk them into a bloody Mary dipping sauce. Finally, spicy sriracha doused chicken wings are so hearty they'd satiate even the toughest Cullen brother's hunger. Get these festive recipes when you read more