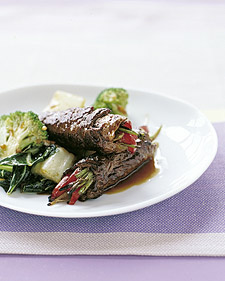 Spring rolls
aren't the only Asian roll-ups I'm enamored by; these pan-Asian beef and scallion bites are right up my alley, and they don't require any sort of special ingredients.
In this recipe, beef itself serves as the wrapper. To achieve paper-thin slices, freeze the sirloin for 20 minutes before cutting it with a sharp knife. Stuff the meat with sticks of stir-fried vegetables.
In a pinch, broccolini, carrot matchsticks, or any kind of bell pepper will do; be sure to secure with a toothpick. Interested in the recipe yet? Then keep reading.