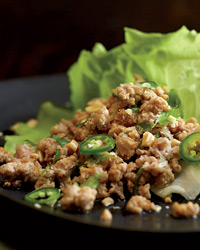 If you gave the barbecued pork burger recipe a shot yesterday, you may have some leftover ground pork on your hands.
Here's a sweet and spicy salad — lettuce wrap style — that utilizes the weekend's meaty leftovers but won't weigh you down after a beer and BBQ-filled Father's Day.
Get the recipe after the jump.