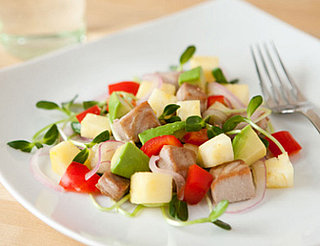 If you're anticipating a
Memorial Day cookout
, save stomach room for the burgers, hot dogs, and barbecued chicken that you'll be eating tomorrow. For dinner tonight, opt for something light to whet your holiday appetite, like a tuna salad.
This version certainly isn't your mom's lunchbox tuna salad. Its fresh approach calls for just-cut pineapple, sunflower sprouts, and oven-broiled yellowfin steaks.
The salad's oil free, but chunks of avocado supply creaminess. For a healthy break, read on.