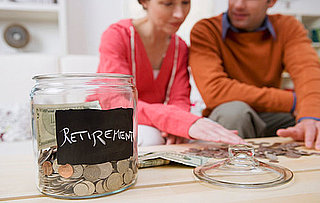 Retirement seems so far away and calculating how much you need for your nest egg may feel so overwhelming that you might use it as an excuse to procrastinate. A Wall Street Journal article gives a ridiculously simple shortcut to help you figure out your retirement needs:
Every experienced financial planner I've spoken to, when pressed, has given the same answer. At a pinch, for most people, the best guess for the income you'll need to live on in retirement comfortably is: about the same as the income you need now. Simple. Easy to remember . . . when you are dealing with the unknown, it helps to start with something familiar. In this case, try your current disposable income.
The article goes on to mention that your living costs will naturally be different from what they are now, because you'll no longer have to save for retirement and pay for your kids, and hopefully you'll be done with your mortgage payments by then. It seems pretty easy to subtract those costs since you already know what your expected cost of retirement living is. The first step is always the hardest, so take heed from this simple tip so you can reap rewards during your golden years.