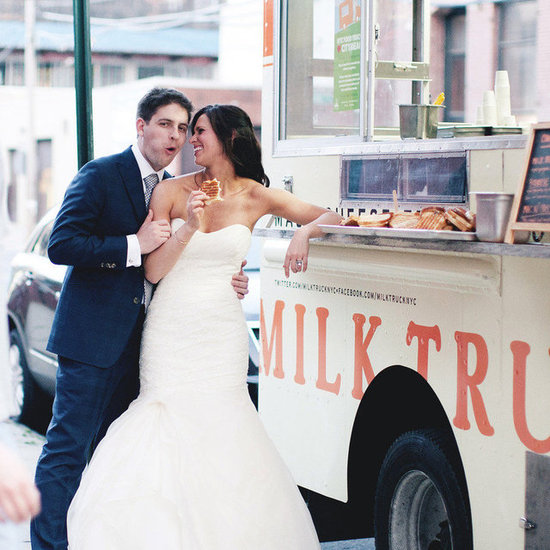 Whether you're considering a casual brunch buffet or a formal table service dinner, the meal you serve at your wedding can set the tone for your reception festivities, but the prices your caterer presents can sure be daunting! Before you give your guest list the axe, follow our 10 tips on how to trim the fat from your wedding food budget.
Think outside of the plate. A meat-and-starch may be the traditional wedding meal route, but if you think about your and your partner's personalities, you might be able to come up with a more creative — and cheaper — alternative. If you're movie buffs, what about pizza? If together you've tried every burger west of the Mississippi, assemble a choose-your-own toppings burger bar. If you throw the best cocktail parties in town, combine cocktail hour with dinner and serve a heavy hors d'oeuvres buffet.
Truck it in. These days, you can find just about any food in the form of a food truck. Most are available to rent for private events, so call up your favorite taco or crepe truck to check out their prices which are usually much lower than the per-head cost of a catered meal.
Serve yourself. A sit-down dinner may seem like the only option for an elegant evening, but a buffet can still be formal. Buffets cut down on the amount of staff needed to serve dishes, and your caterer can add fun frills like made-to-order omelettes and meat slicing.