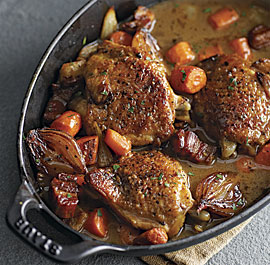 In wine making, the harvest is one of the most crucial times of year. It's when the vintners pick the grapes and usually occurs between August and October. Since the harvest is such an important season, many wineries celebrate with a lunch or dinner.
I think the tradition is the perfect excuse to plan a party! Just because you don't live in wine country doesn't mean you can't commemorate the harvest. Invite friends over for a meal that honors the wonderful world of wine. Every dish on the menu has wine on the ingredient list.
Start by displaying an assortment of charcuterie, olives, crackers, and goat cheese mousse with red-wine caramel. For the main course, offer chicken braised in white wine with shallots, pancetta, and fennel. Plate the chicken with a simple risotto alla Milanese — made with white wine and Parmesan cheese. These recipes are welcome at any dinner party, be it harvest-themed or a special birthday. To check them out, keep reading.