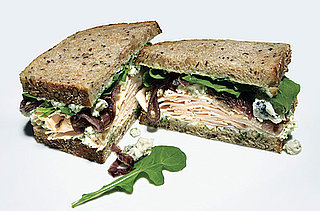 My friend's birthday is this weekend, and instead of having a party, she's asked all of her loved ones to spend an afternoon volunteering and helping to clean up a local beach.
Because it's almost Earth Day and I'm getting in the spirit of things, I've offered to pack a hearty and healthful lunch for the volunteers.
On the menu? Asparagus salad with mushrooms, shallots, and peas. It's delicious at room temperature, so I'll simply store in individual serving containers in a picnic basket. Then I'll wrap halves of smoked turkey, blue cheese, and red onion sandwiches in parchment paper. People can enjoy as many halves as they'd like. These easy, make-ahead recipes are great for any sort of picnic, so check them out after the break.